Setting up Apple(iPhone/iPad)
For iPhone 5S and iPhone 5C users, it is necessary to install an APN profile before use
On your iPhone, please use Safari to access this page [LINK] and download the profile settings
This profile can also be used for iPhone 4/4S and iPhone 5
※If another APN profile is already setup, it has to be deleted
Also, after using JAPAEMO SIM, please delete the profile setting before setting up a new APN
Please note that you have to delete the profile setting , or you may not be able to connect to another network.
<Note> If you get following error when connecting an iPhone /iPad, follow the steps to reset the network settings.
| | | | |
| --- | --- | --- | --- |
| [Settings] | → [General] | → [Reset] | → [Reset network settings] |
Setting up an Apple(iPhone/iPad) using iOS 6 or later
Before setting up an iPhone 5, 5C, 5S using iOS 6 or later it is necessary to download a configuration file (APN settings file)
How to setup an iPhone (iPad) using iOS 6 or later
1. Please open this page using your iPhone (iPad) etc.
Access this page in Safari and download the profile from the banner below.
Please note that we cannot guarantee performance of this APN setting configuration profile.
Due to iOS updates or custom user settings, this file may stop working.
If you are setting up the APN using this page, please scan this QR code with your iPhone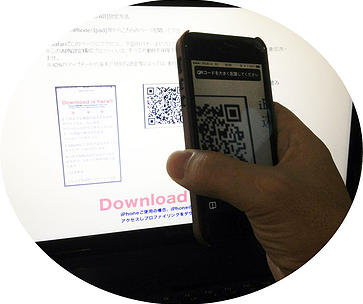 2. When installing the following screen will be displayed
When the download is complete, the installation screen is displayed.
Tap "Install"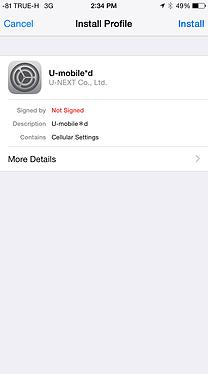 3. When [Unsigned profile] is displayed, tap "Install"
Depending on your device settings you may be prompted to enter password.
In that case, please enter your personal password.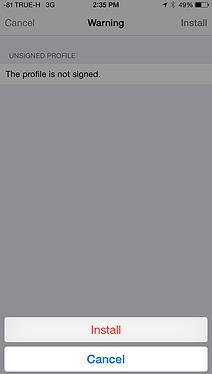 4. Now the APN setup is complete and ready to be used in Japan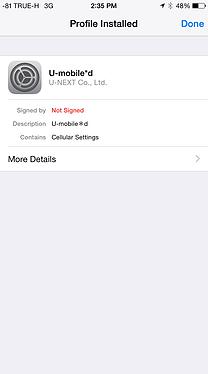 Notice
If you already have another APN profile installed when setting up the JAPAEMO SIM profile, please delete it